Mag Wheels
---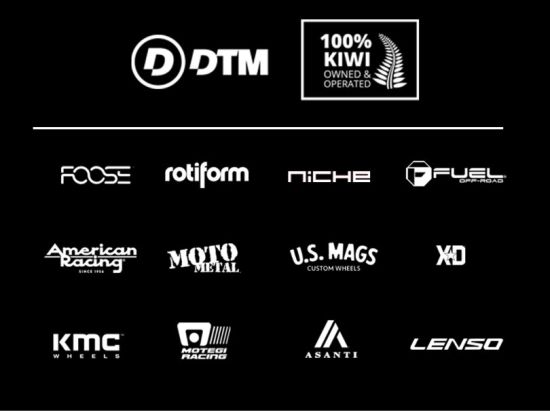 Discover a wide range of high-quality and stylish DTM Magwheels, available exclusively at Steve's Tyre Service, Palmerston North. As trusted local dealers, we take pride in enhancing your vehicle's performance and appearance. With our strong partnership with DTM, a renowned brand in the industry, you can rest assured that you're getting top-notch products that meet the highest standards of craftsmanship and design.
At Steve's Tyre Service, we understand the importance of finding the perfect mag wheels for your vehicle. That's why we offer a comprehensive selection that caters to various makes and models. Whether you drive a sedan, SUV, truck, or sports car, we have the ideal mag wheels to suit your style and requirements.
When you choose DTM Magwheels from Steve's Tyre Service, you can expect exceptional craftsmanship, durability, and cutting-edge design. DTM has a stellar reputation for manufacturing wheels that combine both functionality and aesthetics, ensuring that your vehicle stands out on the road. With meticulous attention to detail and the use of premium materials, DTM Magwheels are built to withstand the rigors of everyday driving while providing a smooth and comfortable ride.
We understand that every driver has unique preferences and tastes, which is why our DTM Magwheels collection offers a diverse range of sizes, finishes, and styles. Whether you prefer a sleek and modern look, a classic and timeless design, or a bold and sporty appearance, we have the perfect mag wheels to match your vision. Our knowledgeable team is always ready to assist you in selecting the right wheels that complement your vehicle's aesthetics and performance.
At Steve's Tyre Service, we not only provide top-quality products but also prioritize customer satisfaction. Our team of experienced professionals is dedicated to providing exceptional service, ensuring that your mag wheel purchase is a seamless and enjoyable experience. We take pride in our expertise and industry knowledge, and we're here to answer any questions you may have, offer expert advice, and help you make an informed decision.
When you choose Steve's Tyre Service for your DTM Magwheels, you can expect competitive pricing without compromising on quality. We strive to offer the best value for your investment, making sure you get the most out of your purchase. With our commitment to excellence and customer satisfaction, we aim to exceed your expectations at every step of the process.
To explore our extensive range of DTM Magwheels and find the perfect match for your vehicle, visit our store. You can also visit the official DTM Magwheels website learn more about the brand and their exceptional wheel range.